Winston Churchill commemorated with stained glass window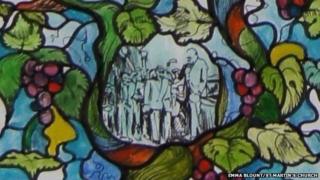 A stained glass window design commemorating Winston Churchill has been revealed.
It will be installed at St Martin's Church in Bladon, Oxfordshire, where the wartime prime minister is buried.
The window includes imagery of a Spitfire, a gas mask and a cat.
Robert Courts, chair of the parochial church council, described it as a "rich mixture of the Bulldog Churchill... and equally Churchill the man".
The church is visited by thousands of tourists each year.
Its new window is being constructed to mark 50 years since Churchill's death in January 1965.
Its main figures are St Martin and St Alban, but it includes images of Churchill touring a wartime dockyard, and on the banks of the Rhine.
It also includes his coat of arms, and along its outline, images which represent aspects of his life.
These include Sir Winston playing polo, the portcullis of the House of Commons, an evacuee, a tank, the V for Victory salute, painting brushes, and his profile with a cigar.
Mr Courts said: "It has to be a religious window without obvious, inappropriate reference to a secular subject, but there are subtle ways of doing this.
"It's as we look closely at the window that all the details and the references to Churchill become apparent.
"There is a picture of a black swan because he had one at Chartwell [his family home in Kent]... there's butterflies symbolising the butterflies he had there as well.
"There's a broken bit of barbed wire which is a reference to him escaping a Prisoner of War camp in the Boer War when he was very young.
"This is ultimately a family plot with a family burial so it's important we commemorate it in that way as well."
The window, which has been designed by Emma Blount, is expected to be installed at the end of May.