Oxford flood relief channel to protect 1,200 homes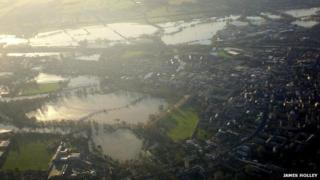 A proposed £120m flood prevention scheme in Oxford will safeguard 1,200 properties, according to the Environment Agency.
More than 1,800 homes are currently classed as "at risk" annually by the agency.
The homes could be protected by a new flood relief channel which is being considered in the scheme.
The agency plans to protect the remaining 600 with pumps or flood walls.
If approved by Defra and HM Treasury the four-mile channel would carry water to the west of Oxford, in addition to the capacity of the River Thames, during severe floods,
The earliest the flood defence scheme could be approved is spring 2018, said the agency.