School roads ban for Oxford fast food sellers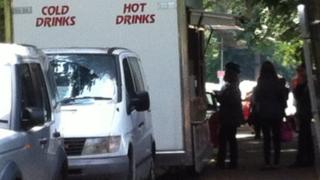 Fast-food vans have been banned from operating near schools in Oxford.
Oxford City Council has passed a new street trading policy which stops street traders in the city selling food within 100m (328ft) radius of schools.
Councillor Mary Clarkson said: "It's about both the education and the availability - it's to protect the health of our young people."
It comes after a fast food van was given permission to operate near Cheney School for a year until March 2014.
It was under the condition it did not sell fried food and fizzy drinks when pupils were around.
'Gesture politics'
The new policy applies to any education facility for children under the age of 18.
Mrs Clarkson said: "We don't have any control over shops, but where we do have control over street traders we want to be leading the way in promoting healthy eating among young people."
But the move has been questioned by some residents.
Writing on the BBC Oxford Facebook page, Simon Tavener said: "What a pointless piece of gesture politics.
"Kids are perfectly capable of buying bad food from a nearby shop - or walking the 100m to get their chips or ice cream... why restrict the freedom to trade of a street food seller?"
Richard Mackay added: "High time our wonderful council did something useful with their time... spare time they obviously have too much of."