Sir Winston Churchill's funeral remembered in Oxfordshire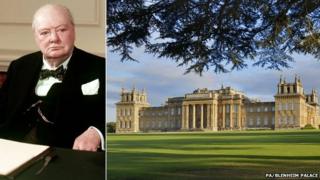 Church bells have rung out in Oxfordshire to mark the 50th anniversary of Sir Winston Churchill's funeral.
The wartime prime minister died on 24 January 1965 aged 90 and was buried six days later at St Martin's in Bladon, near his birthplace of Blenheim Palace.
A full peal was held on Saturday at his final resting place to echo the one performed at his burial.
It lasted for two hours and 40 minutes - the same as the original.
David Floyd, who was aged 20 at the time, is the only original bell-ringer to have survived.
He said: "I just remember the sombreness of the occasion and the fact that Winston Churchill was such an important person at the time.
"It was a responsibility, we felt we were doing a duty for the great man."
A sign of Churchill's affinity with Oxfordshire was his decision to be buried in his family plot at St Martin's Church, a short distance from Blenheim Palace.
Earlier this year a stained glass window design was unveiled. Funds are currently being raised for the window which it is hoped will be installed in May.