Oxford University congregation to vote on Castle Mill future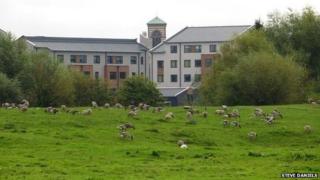 Senior academic staff at Oxford University could vote to remove the top floor of a controversial block of student flats near a beauty spot.
The £21.5m Castle Mill at Port Meadow has been widely criticised by residents and environmental campaigners for being "ugly" and "spoiling the view".
The university's "congregation" of 4,500 staff will debate whether to make the changes at a cost of £30m.
However, the institution's council opposes the resolution.
The five-storey accommodation on Roger Dudman Way was built on a brownfield site at a former railway siding.
It overlooks Port Meadow, which is classed as a Scheduled Monument and a Site of Special Scientific Interest.
Planning permission was granted in 2011, but residents said they did not ask the Secretary of State to call it in because they were not made aware of the plans.
Castle Mill options and costings
Option 1: Change cladding and colour of the buildings, and plant trees along the boundary (£6m)
Option 2: Option 1 plus convert to low level roofs (£13.5m)
Option 3: Option 1 plus lower roofs and remove top floor from six buildings (£30m)
Source: Oxford City Council
The resolution brought before the congregation by 64 academics, said it welcomed the conclusions of an environmental impact assessment, and of the three options recommended, removing the top floor was the "only one that offers substantial mitigation, and [it] therefore instructs council to proceed".
The changes will result in the loss of 38 bedrooms. More than 300 graduate students have been living in the flats for more than a year.
A university spokesperson said: "There would be knock-on damage to the city's hard-pressed property market.
"The total cost of going down this route, according to independent experts, is £30m - more than the flats cost to build."
The proposal is also opposed by the student union who said it was a "scandalous waste of the university's limited discretionary capital and would have a seriously detrimental impact on the experience of all students".
The university statutes say it is bound by any resolution passed by the congregation.
The vote takes place on 10 February at the Sheldonian Theatre.