BFI and Stornoway recreate Lydia the Tattooed Lady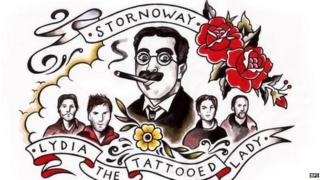 A "largely forgotten" song performed by Groucho Marx and Kermit the Frog has been resurrected by indie-folk group Stornoway.
The Oxford-based band were commissioned to recreate Lydia the Tattooed Lady for the British Film Institutes' (BFI) Marx Brothers and Katharine Hepburn seasons.
Jon Spira, BFI's AV producer, said: "I knew it would be a progression, but respectful and also do it justice."
Jon Ouin from the band called it a "fun" experience.
He added: "We recorded all our parts remotely in Wales, New York, London and Oxford.
"[Lead singer] Brian Briggs cherry-picked the best lyrics as Groucho's original lasts about an hour, and the rest of us added pots and pans, backing vocals, a bit of bass harmonica and a badly-played saw."
The track - the new version of which can be heard on the BFI's website - was originally recorded in 1939.
A year later it was performed by Virginia Weidler in the Hepburn movie The Philadelphia Story.
But it was Kermit the Frog who arguably made the song his own when he performed it on The Muppet Show with a waltzing pig called Lydia, much to Miss Piggy's chagrin.
The song's melody also appeared in the final episode of US television show Breaking Bad, heard as a ringtone on a mobile phone.
'Everyday sexism'
"I asked Stornoway because they're that rare kind of band who genuinely appeal to a wide audience without ever being mainstream or cynical," Mr Spira said.
"Both the Marx Brothers and Katharine Hepburn may seem rather dated to a younger audience, but when you see how funny the Marx Brothers are, and how perfectly they skewer the bureaucracy we're all still surrounded by, they can really speak to you.
"And in a time when everyday sexism and the way Hollywood treats women is a key issue, many are unaware of how revolutionary Hepburn was as a figure, gracefully refusing to behave in a manner Hollywood or society expected of a woman at the time.
"These are things I'm hoping to bring to a new audience, and I love that I get to do that by also shining a light on a brilliant, largely forgotten, song."
Stornoway's crowdfunded album Bonxie is out in April.