Blenheim Palace activity sparks Bond film set rumours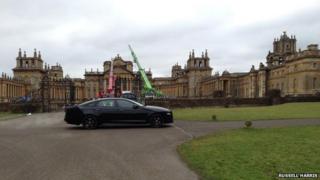 The appearance of huge cranes and fast cars at Blenheim Palace have fuelled rumours on social media it is being used as a location for the new James Bond movie, Spectre.
Daniel Craig will play 007 for the fourth time in the film, due to be released in the UK on 23 October.
Several Twitter users have posted pictures, but the palace in Woodstock, Oxfordshire, has declined to comment.
Sony Pictures has not yet responded to a BBC request for comment.
Samantha McGregor posted a picture of the cranes and asked: "Where is James?"
Jonny Dyer tweeted: "Lots of very expensive cars and film unit gear at Blenheim Palace today. Staff cagey but seems to be new #bond #007."
Matt Lawley added a photo of a "007 crew minibus" sign, while Finnish 007 location bloggers Pirita and Mika also claimed the site had been used for filming.
The palace has previously featured in several films, including Gulliver's Travels and Harry Potter and the Order of the Phoenix.