Pettits in Wallingford sells top floor to recoup financial losses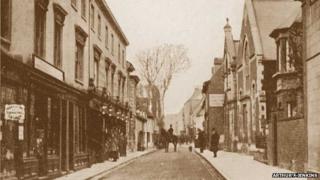 A department store in Oxfordshire is battling to stay open by selling its top floor to developers.
Pettits of Wallingford, which opened in 1856, is one of the oldest stores in the town but financial losses has forced the family business to downsize.
The store will be closed from the end of March until December while its top floor is converted into nine flats.
Director Richard Rowse said trading had become "increasingly difficult" and some job losses were inevitable.
Job losses
"The economic environment, changing retail patterns and the lack of a major retailer opposite our store have all taken their toll and Pettits has changed from a once profitable business to a loss-making one," he said.
"After careful consideration, the downsizing of Petitts and the creation of nine flats was considered to be the most appropriate outcome to enable Pettits to continue to be a valuable part of Wallingford life.
"Inevitably, and sadly, there will be some job losses."
Pettits, which currently employs 46 staff, will reopen in December as a ground floor store only.
The flats should be completed by mid-2016.