Woman's death in fire engine crash was accidental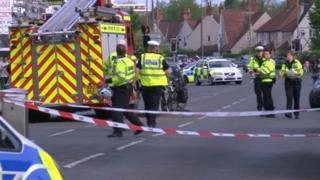 The death of an elderly woman who was struck by a fire engine in Oxford was a "tragic accident", a coroner has ruled.
Sultana Begum, 79, was hit on Cowley Road on May 16. She later died of her head injuries in hospital.
An inquest heard the fire engine, based at Rewley Road fire station, was heading to an incident where a boy got his hand stuck in a bike chain.
The coroner said Oxfordshire Fire and Rescue had acted appropriately and the death could not have been avoided.
The court heard witnesses saw Mrs Begum, described as frail and elderly, slowly cross to a traffic island, before looking up and stepping into the path of the oncoming fire engine, which had its sirens and blue lights on.
The driver, Gavin Carter, described seeing Mrs Begum look him in the eye. He said he applied the brakes when she stepped out.
"I did everything in my power to avoid the collision. I did everything I'd been trained to do," he told the court.
Recording the death as accidental, the coroner said: "We don't know why Mrs Begum stepped out, perhaps she looked but did not see".
Deputy chief fire officer Nathan Travis said: "Our thoughts are with the family of Mrs Begum at this very sad time, and also with the firefighters who were involved in the accident as well".