Sir Winston Churchill's Blenheim Palace pony saddle on show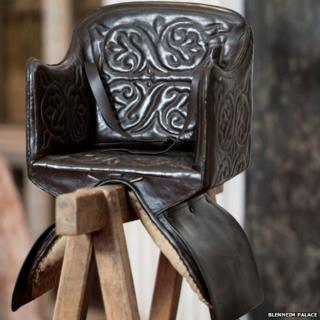 The saddle Sir Winston Churchill used as a boy to ride his pony around the grounds of Blenheim Palace has gone on show for the first time, as part of a new exhibition about his life.
Other items on display at the palace in Woodstock, Oxfordshire, where Churchill was born, include one of his cigar boxes.
It marks the 50th anniversary of his death and the 75th anniversary of his first appointment as prime minster.
The exhibition runs until 20 December.
Churchill learnt to ride his pony Rob Roy using the leather saddle.
Other previously unseen artefacts on display include images from his burial at Bladon Church, taken following his state funeral at St Paul's Cathedral on 30 January 1965, and an original Queen's Own Oxfordshire Hussars uniform, worn by his colleague Ferdinand St John.
Churchill's velvet romper suit, also known as the "siren suit", is also on show, along with transcripts from some of his private communications.
Five rooms in the palace, which is a World Heritage site, are being used to display a selection of images, artefacts and audio as part of the Churchill 2015 exhibition.