Minster Lovell farm fire engulfs 2,000 hay bales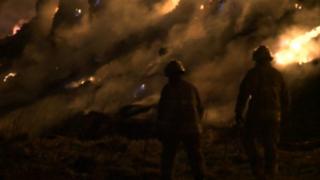 A large fire at a farm in Oxfordshire which saw 2,000 bales of hay set alight is being investigated.
The fire broke out on a farm near Minster Lovell, west of Witney on Tuesday evening.
Oxfordshire Fire and Rescue Service crews spent the night tackling the fire - at its height about 25 firefighters were at the scene.
The cause of the blaze is being examined by the fire service and Thames Valley Police.