Disruption warning as Frideswide Square roadworks begin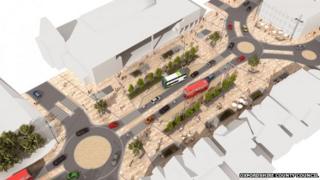 The main phase of work to relieve a well-known bottleneck in Oxford has begun.
The £5.8m scheme at Frideswide Square will see all the traffic lights removed and replaced with three roundabouts and one central carriageway.
Oxfordshire County Council said there would "undoubtedly be disruption".
The train station remains unaffected during the work, which is being carried out in four phases and is expected to be completed by December.
Road closures, diversions and temporary traffic lights will be in place.
Affected roads include George Street, Worcester Street, Hythe Bridge Street, Hollybush Row, Becket Street, Oxpens Road and Osney Lane.
The authority said: "The advice to drivers, as with any major scheme of this kind, is to plan your journeys.
"Consider taking another route if you need to go into the city centre or think about a different mode of transport."