Reprieve for mum over Kidlington baby grave decorations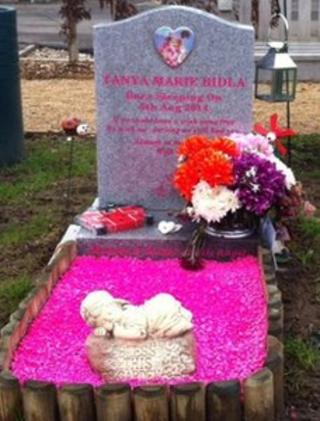 A grieving mother told to remove decorations from the grave of her baby daughter in Oxfordshire has been given a temporary reprieve by the council.
Jade Beadle was sent a letter by the council telling her to remove colourful gravel and ornaments from Tanya's grave, at Kidlington cemetery.
Kidlington Parish Council has since said it "will not be taking any immediate action to remove the items".
The authority has not confirmed whether the decorations can stay permanently.
It said it planned to meet the family to discuss the matter.
Ms Beadle was given a deadline by the council to remove the decorations by 31 January, which she ignored.
An online petition calling for parents to be allowed to decorate graves has attracted more than 7,000 signatures.
The authority said its rules stated that items such as pot plants, toys, statues or solar lights were not permitted on graves.
The council added that ornaments could make mowing around graves difficult.