David Cameron's check shirt makeover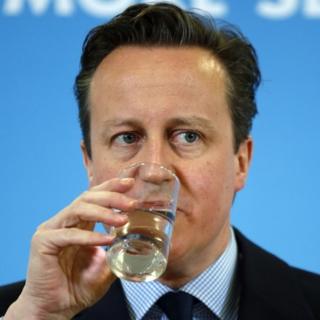 There's an old joke about the BBC journalist's shirt. It is like our pay - small cheques.
But when the prime minister chooses a shirt with small checks, there's a different message.
As a journalist covering David Cameron's Oxfordshire constituency I have noticed his image evolving. A swap of parting from right to left in 2007, these small things matter.
Since he became Prime Minister he has had a uniform of white shirts and dark plain ties. If he is on a building site or with the army and a suit won't do there's a zip-up Berghaus with dark jeans, and on holiday it's a dark blue polo shirt.
You could not call it an austerity wardrobe, these are good quality items, but it's deliberately limited.
In Woman & Home magazine this week there is a well-placed article about the Cameron life-style. The Prime Minister suggests most of his clothes choices are made by his wife Samantha.
"I'm not really interested in clothes," he says, "Mainly I like wearing clothes that don't make me stand out.
"I tend to go for Marks & Spencer and Gap, and I do get put in the changing room at Gap and clothes are passed to me under the changing room door - a bit like feeding time at the zoo!"
Can that really be the whole picture?
Surely within the millions being spent on this election there is some cash for a focus group, some stylists advice, on the image of the main player on the Conservative side?
The Cameron hair has a sharper new look too. His hair-dresser Lino Carbosiero was made an MBE for his services. Just have a glance at the prime minister's look when he first stood for Parliament in 2001.
It has to be about the election, of course. The power look works well at Westminster and at international summits, but already the visits away from London are a regular feature of Cameron's diary.
So what could be added to this softer image? Could Cameron be heading for the hipster look. Some horn-rimmed reading glasses instead of those metal frames?
What about the knitted tie, or even the beard? Could the prime minister be getting style advice from his next-door neighbour in Oxfordshire, the Culture Secretary Ed Vaizey?
Clothes are a minefield for politicians. William Hague blew it by wearing a baseball cap. Think back to Tony Blair posing with hands in jeans Western style with President Bush at Camp David.
So David Cameron has to tread carefully. This is not a time to rock the boat.
You can argue about his long-term economic plan, but you can't doubt his style strategy has been in it for the long haul.