Didcot memorial garden for Jayden Parkinson unveiled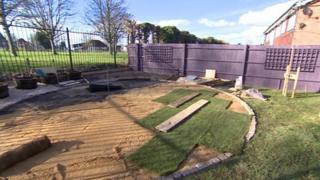 A garden has been unveiled in memory of a murdered teenager.
It was set up to remember Jayden Parkinson, 17, who was strangled by Ben Blakeley, 22, from Reading, in December 2013, and buried in his uncle's grave.
Volunteers have created it on donated land close to where Jayden's body was found, in All Saints Church, Didcot.
Her mother Samantha Shrewsbury, said: "Life has been dark and horrible it's something I will never get over, but things like the garden give me hope."
Ms Shrewsbury said she was lost of words when she saw the garden.
"From something so tragic has come something really beautiful," she said.
"As a family, we will never forgive or forget or get over it - but it's going to be a really nice place to go and reflect."
Friends and family of Jayden are expected to visit the garden later to plant a collection of the teenager's favourite flowers and shrubs.
The garden is due to open to the public at the end of March.
Blakeley was jailed for life in July last year, for the murder of Jayden.
His brother, Jake Blakeley, 18, of Abbotts Road, Didcot has been cleared of being involved in hiding her body.
Jake was acquitted on a charge of preventing the lawful burial of Jayden Parkinson after the jury failed to reach a verdict.
He previously admitted perverting the course of justice and is due to be sentenced on 10 March.