Dame Honor Fell honoured with Wychwood School plaque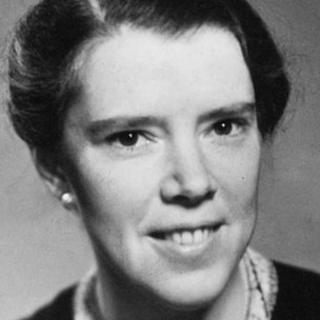 A plaque in honour of a biologist who made "major contributions" to the field has been unveiled at the school where she studied.
Dame Honor Fell is being remembered by the Society of Biology with the plaque, at Wychwood School in Oxford.
The biologist, who was born in 1900, is noted for developing the organ culture method.
The plaque is one of 10 being put in place across the UK to mark "unsung heroes of biology".
The organ culture method is now widely used and allows scientists to grow living cells in the laboratory, so they can be studied without risking human organs.
'Great heritage'
The research laid the foundations for stem cell research.
Fell was the ninth woman to be elected a Fellow of the Royal Society, in 1952.
Dr Mark Downs, chief executive of the Society of Biology, said: "We have a great heritage of scientific discovery and an exciting future, but the biologists who have contributed to our understanding of the world are not always given the appreciation they deserve."
A plaque to honour JBS Haldane, who pioneered mathematical work on genetics that was critical to the acceptance of natural selection, will be unveiled at Dragon School in Oxford on 14 March.
---
'Unsung heroes' and their blue plaques
Nine other plaques being installed by the Society of Biology:
Marjory Stephenson Biochemist and microbiologist who was one of the first female Fellows of The Royal Society (Mitchams Agricultural Machinery Ltd, Cambridge)
Dolly the sheep First mammal to be successfully cloned from an adult cell, rather than an embryonic cell (Roslin Institute, Edinburgh)
Sir Richard Owen Scientist who coined the word "dinosaur" and founded the National History Museum
Sir Alan Hodgkin and Sir Andrew Huxley Scientists who jointly won the Nobel Prize in Physiology or Medicine (Marine Biological Association, Plymouth)
Fred Sanger Father of genomics who developed a technique to sequence DNA (252 Hills Road, Cambridge)
Dorothy Hodgkin X-ray crystallographer whose discoveries contributed to a better understanding of illnesses, including diabetes (John Leman Grammar School, Suffolk)
Patrick Steptoe, Robert Edwards and Jean Purdy Jointly developed IVF, leading to the world's first test-tube baby (Dr Kershaw's Hospice, Oldham)
JBS Haldane Scientist whose mathematical work on genetics and evolutionary biology was critical to acceptance of natural selection (Dragon School, Oxford)
Sir Anthony Carlisle Anatomist whose innovations included the analysis and publication of medical statistics (Chapel Gardens, Stillington)
Source: Society of Biology
---