Hanwell cottage restorers discover Tudor royal coat of arms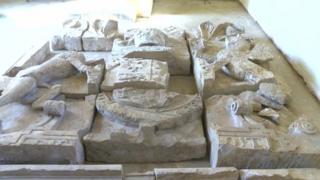 A Tudor royal coat of arms has been discovered embedded in the walls of a cottage in an Oxfordshire village.
Pieces of the 16th Century 2m x 2m (6ft x 6ft) stone armorial were found in Tudor Cottage, in Hanwell near Banbury, during refurbishments.
Owner David Crabtree said a large fleur-de-lys "fell into a pile of rubble" as builders took a wall down.
Further carved stones, including three lions, were then found in other walls within the cottage.
The large jigsaw puzzle of stones was then pieced together to reveal the coat of arms.
'Something extraordinary'
David Crabtree said: "We're staggered.
"We took one piece out and found a part of the lion and it then became apparent that we were looking at something extraordinary.
"I think there are still other pieces buried in the walls that will stay there forever."
It is thought the stones came to be in the walls of the cottage because of the likelihood it was built using discarded material from Hanwell Castle, which was partly demolished in the 18th Century.
Medieval historian Dr Rowena Archer said: "The lovely thing is the quality of the piece, it's a very posh piece of work. It was a very expensive commission.
"You get them sometimes in houses over chimneys in plasterwork what's remarkable about this piece is that it's been done in very expensive stone.
"It's unusual. There are very few of these that have survived. We think it was probably an over-mantle, carved sometime after 1525."
Mr Crabtree said he hoped to find a museum to display the stone sculpture.