JBS Haldane: Blue plaque for genetics pioneer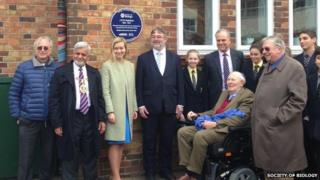 A plaque in honour of a biologist known for his work in genetics has been installed at his former Oxford school.
John Burdon Sanderson Haldane won a number of prizes, including the French Legion of Honour, for his mathematical work on genetics, which was pivotal in the acceptance of natural selection.
The plaque has been unveiled at The Dragon School - formerly the Oxford Preparatory School - in Bardwell Road.
It is one of 10 being installed around the UK by the Society of Biology.
JBS Haldane was a polymath biologist, meaning his expertise spanned several fields of study. Part of his work was to combine evolutionary theory with modern genetics.
The ceremony was attended by Sir Roger Bannister, who ran the first sub-four-minute mile in Oxford in 1954, Nicola Blackwood, MP for Oxford West and Abingdon, and Lord Mayor of Oxford Mohammed Abbasi.
Dr Mark Downs, chief executive of the Society of Biology, said: "We have a great heritage of scientific discovery and an exciting future, but the biologists who have contributed to our understanding of the world are not always given the appreciation they deserve.
"We are delighted to be giving these biologists the recognition awarded to other great historical figures."
---
'Unsung heroes' and their blue plaques
Ten plaques being installed by the Society of Biology:
JBS Haldane Scientist whose mathematical work on genetics and evolutionary biology was critical to acceptance of natural selection (Dragon School, Oxford)
Dame Honor Fell Biologist noted for developing the organ culture method (Wychwood School, Oxford)
Marjory Stephenson Biochemist and microbiologist who was one of the first female Fellows of The Royal Society (Mitchams Agricultural Machinery Ltd, Cambridge)
Dolly the sheep First mammal to be successfully cloned from an adult cell, rather than an embryonic cell (Roslin Institute, Edinburgh)
Sir Richard Owen Scientist who coined the word "dinosaur" and founded the National History Museum (Lancaster Royal Grammar School)
Sir Alan Hodgkin and Sir Andrew Huxley Scientists who jointly won the Nobel Prize in Physiology or Medicine (Marine Biological Association, Plymouth)
Fred Sanger Father of genomics who developed a technique to sequence DNA (252 Hills Road, Cambridge)
Dorothy Hodgkin X-ray crystallographer whose discoveries contributed to a better understanding of illnesses, including diabetes (John Leman Grammar School, Suffolk)
Patrick Steptoe, Robert Edwards and Jean Purdy Jointly developed IVF, leading to the world's first test-tube baby (Dr Kershaw's Hospice, Oldham)
Sir Anthony Carlisle Anatomist whose innovations included the analysis and publication of medical statistics (Chapel Gardens, Stillington)
Source: Society of Biology
---