Banbury phone box library to get new red booth from BT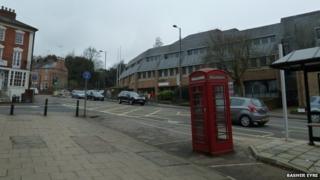 A phone box library in Oxfordshire that was threatened with closure has been saved after BT offered to install a second red booth to house it.
About 40 books and shelves were installed in the working red phone box in South Bar, Banbury, but BT subsequently ordered their removal.
The town council initially agreed to adopt the box but BT said the phone would need to be removed.
The company has now offered to fit a second red box for the library.
Councillor Kieron Mallon said: "This is an extremely generous offer from BT and is a perfect solution.
"It's not unusual to find two red phone boxes side by side - and having a community library and a working pay phone in South Bar will be the best of both worlds."
Dangerous shelves
BT operations general manager Gareth McWilliams said: "From the very start, BT has been extremely keen to find the right solution for everyone involved and to ensure this tale has a happy ending.
"We're only too aware of the fondness with which people hold the traditional red phone boxes.
"Unfortunately it's simply not feasible for us to let anyone install any additional equipment or items in any of our working payphones."
The book exchange is believed to have been installed last summer.
After receiving a complaint about it, BT put up a note in the booth saying the books and shelving had to be removed, as they could be dangerous.
Mr Mallon said the payphone was well used, with about 1,100 calls made last year.