Woman charged following Oxford anti-slavery raids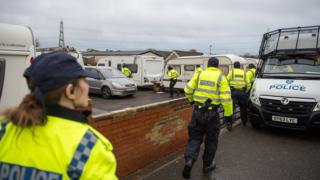 A woman has been charged in connection with slavery and fraud offences following raids in Oxford.
The 44-year-old from south Oxford is charged with conspiracy to defraud, conspiracy to hold a person in slavery or servitude and conspiracy to require a person to perform forced labour.
The servitude and forced labour charges relate to offences between April 2010 and February 2015, police said.
She is due to appear before Oxford Magistrates' Court.
Nine men, aged between 19 and 56, were also arrested on Thursday when about 150 Thames Valley Police officers raided properties in Rose Hill, Blackbird Leys and a travellers site in Redbridge Hollow in Hinksey Hill.
Six of the men have been bailed, two remain in custody and one has been released without charge.
The investigation, known as Operation Rague, relates to suspected human exploitation, slavery and fraud offences.