Oxford EDL march police officer injured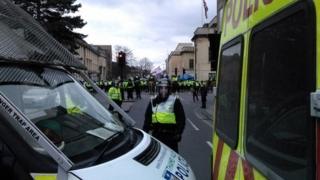 Three people have been arrested and a police officer injured at a march by the English Defence League (EDL) in Oxford.
The male officer suffered minor head injuries when he was struck by a missile.
Thames Valley Police said two demonstrators had been detained on suspicion of causing affray and one on a public order offence.
Roads around St Aldates were closed causing traffic disruption.
Police said they stepped up policing for the march, with additional officers brought in from five neighbouring forces.
A counter demonstration was held by Unite Against Fascism (UAF), with scuffles breaking out between members of the two groups at Bonn Square.