Lewknor villagers in three-week phone outage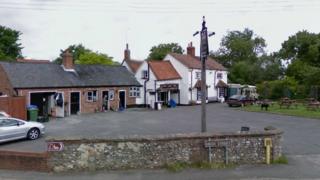 More than 50 residents and businesses in an Oxfordshire village have been without working phone lines for three weeks after underground cables were damaged.
People in Lewknor lost phone and broadband use on 27 March.
BT has apologised for the fault and hopes to restore the lines by Monday. Those cut off will be able to claim compensation, it said.
Repairs to the 200m of damaged cable will start on Friday.
Infrastructure problem
Village pub The Leathern Bottle has been unable to take card payments since being without both its business and residential landlines.
Landlady Julie Gordon said: "We have been told it is an Open Reach infrastructure problem, but the only way to contact them has been online.
"You can't reach them on the phone. It's crazy.
"It's very stressful and difficult when you're trying to run a business and can't use the services you rely on from day to day."
Graham Taylor, from BT, apologised for the difficulties Lewknor residents have experienced.
"A major cable has been damaged and we're going to have replace around 200m of that," he said.
"We're working to complete that in the shortest time possible and we've asked local authorities to impose the minimum possible restrictions in terms of roadworks and diverting traffic.
"But it's important to stress we may encounter more problems once we get underground to assess the damage which may delay us completing the repairs by Monday."