UKIP Witney sign vandalism investigated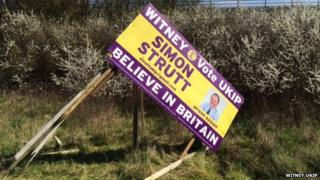 A UKIP candidate in the prime minister's Oxfordshire constituency has claimed a board carrying his campaign poster was targeted by vandals.
Simon Strutt, the candidate for Witney, said a sign next to the A40 had been smashed after being up for a week.
"Examining the damage, we found a clean break across a strong wooden pillar which suggests vandalism," he said.
A spokesperson for Thames Valley Police said the force had received a report of criminal damage.
It related to an incident some time between Saturday and Tuesday near the A40 in Witney. Police are investigating.
UKIP says it faced similar problems during the European elections in 2014.
A spokesman for the Conservatives in Witney said they also reported an incident of vandalism to police after one of their signs was chain-sawed through. The sign has since been repaired.
Witney branches of the Liberal Democrats and Labour said they have not had any problems.
Other candidates standing in Witney:
Duncan Enright (Labour)
David Cameron (Conservative)
Stuart MacDonald (Green)
Andy Graham (Liberal Democrat)
Clive Peedell (National Health Action)
Chris Tompson (Independent)
Deek Jackson (The Land Party)
Colin Bex (Wessex Regionalists)
Nathan Handley (Independent)
Vivien Saunders (Reduce VAT in Sport)
Bobby Smith (Stop emotional child abuse, Vote Elmo)