Party name confusion for Vale of White Horse election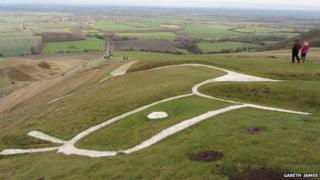 A political party contesting several seats on an Oxfordshire council has caused confusion by using the same name as an apolitical local campaign group.
ROAR (Rural Oxfordshire Action Rally) protests about developers targeting greenbelt land.
A separate group calling itself Rural Oxfordshire Action Rally (In The Vale) has put forward 13 candidates.
The original ROAR said it it was not a political party and wanted to clear up the confusion.
Due to electoral rules, the second ROAR group had to drop "In The Vale", leaving its candidates listed as Rural Oxfordshire Action Rally.
Campaigner Lewis Owens, from the original ROAR group, told BBC Radio Oxford: "We are trying all means necessary to undo the harm that's been done.
Six-word limit
"We are a non-political organisation. We're a group of residents and action groups, we're not in any way, shape or form interested in standing as a political party."
In a statement, ROAR (In The Vale) confirmed it had registered candidates for Vale of White Horse District Council and said its intention was to "work in co-operation with the campaign group".
After the election, it would "endeavour to complement their previous and existing actions".
The Electoral Commission confirmed its registration rules limit party names to no more than six words.
Other parties standing in the Vale of White Horse include the Conservatives, the Liberal Democrats, Labour, the Green Party and the UK Independence Party.
There is also one independent candidate and one candidate from the National Health Action Party.