Community-run Chipping Norton lido reopens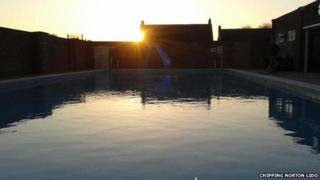 A community-run outdoor swimming pool in Oxfordshire has reopened following £75,000 of renovations.
Work started on repairing the 45-year-old Chipping Norton lido in November.
Clare Jarvis, one of the trustees, said: "Tiles were starting to fall off… and the actual structure of the pool was deteriorating."
Sport England supplied a £60,000 grant, which also funded improvements to the lido's piping and filtration systems.
Ms Jarvis added: "We've made lots of repairs to the walls and then put a brand new surface on.
"We're so far from the seaside that this really is our equivalent of a day by the sea."
The solar-powered heated pool originally opened in 1970, and survived potential closure when a new leisure centre opened in 2002.
Campaigners then formed a company to manage the lido.
Ever since, supporters have been fundraising to keep the facility open.