Oxford child sex exploitation still happening, victim warns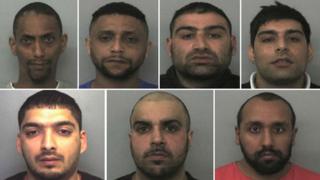 A victim of a sex grooming ring in Oxford believes the city's children are still being targeted by sex gangs.
Seven men were jailed in June 2013 for crimes including child rape and trafficking as part of the Operation Bullfinch investigation.
Speaking exclusively to the BBC, the woman, who is now in her 20s, said: "I know there's still men doing it because they wouldn't suddenly stop now."
The £1.1m Kingfisher unit has been set up to tackle the issue.
'Older abusive men'
The woman, known as Girl Three during the trial, said: "They haven't caught them all yet.
"I know that myself because there are other men [out there] that had something to do with me.
"I would say Cowley Road and Bonn Square are the main places you're going to see young girls being picked up and groomed by older abusive men.
"The problem is that [the offenders] don't see what they're doing as anything other than what they've been raised to do, and I think that's the problem.
"The men that were sent to jail did not see themselves as having done anything wrong. They were convinced they were going to get off, that's why they were so arrogant in the dock.
"They laughed because they don't see it as abuse."
Jurors heard at the Old Bailey trial how six girls aged between 11 and 15 were targeted.
Some were beaten, burned and abused by the men, given to the men's friends or offered at a price to others.
During the trial, Girl Three said: "I know there's still men in Oxford continuing to abuse both girls and boys... definitely."
She was trafficked around the country to satisfy the men's clients.
On one occasion, the court heard, she had been plied with so much crack cocaine she ended up in hospital.
She also gave evidence about a rape in a guest house in which she thought she was going to die.
However, she believes the police are "well on their way" to improving their methods in dealing with child sex exploitation.
"They're more vigilant," she said. "There's more police out looking for older men with younger girls, or young girls looking distressed."
The Kingfisher unit, set up by Thames Valley Police and Oxfordshire County Council, played a part in the recent conviction of five men and a teenager who lured victims to parties organised on social media.