Classic Mini Metro stolen and burnt out in Oxford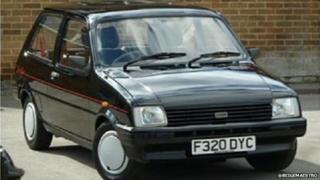 A classic car cherished by a family of enthusiasts has been stolen and burnt out.
The jet black Mini Metro F reg was found by police in Oxford after it was stolen sometime between Saturday night and Sunday morning.
Owner Tanya Field told BBC Radio Oxford there were only 10 models registered.
The vehicle was stolen from their home in Headington and found burnt out in a field on the Oxfordshire-Buckinghamshire border on Sunday.
Excellent condition
The family had appealed for its whereabouts on Twitter.
Mrs Field said her son Jamie had owned the car for a couple of years before he was old enough to drive.
"He absolutely adored it. It only had one owner before him and he's got all the information and paperwork for it," she said.
"He even knows when it came off the production line at Longbridge in August 1988 and the car was in excellent order having covered less than 30,000 miles."
Anyone with information is asked to contact Thames Valley Police.