Oxford University sex attack policy challenged by ex-student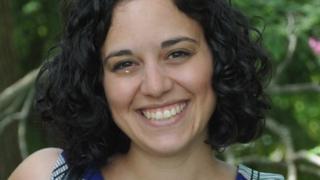 A former student has launched a legal bid to change an "unlawful" Oxford University policy not to investigate all sex assaults.
Elizabeth Ramey, who waived her right to anonymity, claims the university failed to take action after she reported that she was raped in 2011.
She said its stance was "unlawful" and has taken her battle to the High Court.
The university said its harassment policy was in line with other higher education institutions.
A spokesman said it had been developed in consultation with students.
'Women at risk'
Ms Ramey, 29, a graduate, wants the policy changed so all allegations of rape or sexual assault are properly investigated.
The university's harassment policy states allegations that may "attract criminal sanction" are a matter for the police, and that students will be supported.
Her legal action is being funded by the Equality & Human Rights Commission.
Ms Ramey, who lives in the United States, will argue the university's current policy is "leaving women at risk".
In papers lodged with the High Court, she said it would "discourage women from reporting sexual assaults, knowing that their cases are unlikely to be investigated or lead to disciplinary proceedings".
Writing in the Daily Telegraph, she explained that the "kinds of cases that occur most frequently in university settings - those involving acquaintances rather than strangers, and those involving drugs and/or alcohol - are the least likely to be prosecuted".
'Four decades behind'
She continued: "As the police repeatedly stressed in my case, the CPS (Crown Prosecution Service) does not have the resources to pursue the 85,000 cases of rape that take place every year.
"It only prosecutes those cases it believes have the highest likelihood of conviction by a jury, which are usually those involving strangers and/or overt violence."
She said the policy was "four decades behind America" where "federal law requires universities to investigate sexual violence, independent of any criminal investigation".
Ms Ramey was a post-graduate student at St Anthony's College and was 25 when she alleged a fellow student assaulted her.
A university spokesman said: "The university is robustly defending this application on all grounds and Ms Ramey's application has already been refused permission on the papers.
"The harassment policy was developed through consultation with students and other interested parties and had regard to practice across UK higher education generally."