BB King onesie guitar tribute goes viral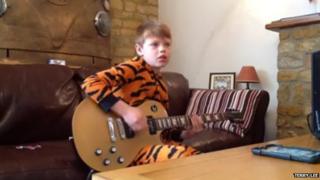 A video of a 10-year-old boy in a tiger onesie playing a guitar tribute to BB King has had more than five million hits online.
After posting the video, Toby Lee, from Bloxham, Oxfordshire, has had fan mail, sponsorship offers, and a personal message from Rita King Washington, daughter of the guitar legend.
Toby said: "I think it went so mad because BB King was really popular."
King died in his sleep at his Las Vegas home on 14 May, aged 89.
Toby posted the Facebook video of his rendition of The Thrill is Gone as a get well soon message to the guitarist before he died.
The hits began to skyrocket after it was shared by blues guitarist Joe Bonamassa and guitar manufacturer Gibson.
Array of onesies
"I put up a tribute for BB King because at that moment he was my favourite guitarist," Toby explained.
"Joe Bonamassa helped. He's also one of my favourite guitarists and he's really, really good and I nearly fell down the stairs because I was so shocked [that he shared it]."
Bonamassa told his followers: "This is what it is all about. My favourite blues song being played by one of the future superstars of the blues."
Meanwhile Rita Lee Washington asked the young guitar hero to keep her father in his prayers.
Toby has become fond of wearing an array of onesies in his Youtube videos, ever since receiving one as a Christmas present.
Terry Lee said his son started playing when he was very young.
"His grandma bought him a ukulele when he was four, and he played it until all the strings broke.
"He's a funny guy with a great sense of humour, way beyond his years."