Oxford Westgate dig: Medieval leather shoes found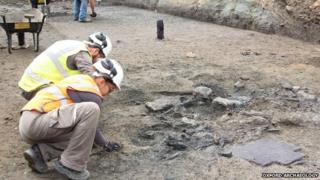 "Rare and exciting" leather and wooden objects 700 years old have been found at an archaeological dig in Oxford.
Experts uncovered 50 medieval leather shoes and a bag as well as a wooden bowl and timber posts at the Westgate Shopping Centre excavation.
The objects which "tell us about everyday people" have been so well preserved because the Thames floodplain area is below the water level.
Project director Ben Ford said: "These finds are as rare as gold."
'Hundreds more objects'
Oxford Archaeology has found remains of 50 medieval shoes and a complete leather shoulder bag, which are thought to be 700-years-old.
Mr Ford said: "These finds are as rare as gold and often as informative.
"They tell us about the everyday people, their lives, the objects they made and the clothes they wore.
"It's amazing to think these shoes were worn by people who walked the streets of medieval Oxford."
The site of the shopping centre, which is being redeveloped, housed a friary for the Greyfriars religious order and was just outside the Oxford city walls at the time.
Timber posts used to stabilise muddy stream banks and a sluice gate have also been found.
'Special site'
Mr Ford said: "Only a handful of sites will have that level of preservation.
"What makes it special is the sheer volume of the material, we have only been on site four or five weeks and already have 100 objects."
The Westgate development in the city centre is due to be completed in autumn 2017 and have shops, restaurants, a cinema and flats.
An open day is taking place this weekend for the public to visit the excavations as part of the National Festival of Archaeology.