Cecil the lion: £300,000 donated to Oxford researchers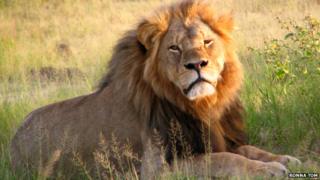 Researchers at Oxford University who studied Cecil the lion have received more than £300,000 in donations since the animal was killed by a hunter.
The money was received by WildCRU, a conservation unit within the Department of Zoology, which has satellite-tracked the famous lion's movements since 2008.
American billionaire Tom Kaplan has now agreed to match new donations up to a total of $100,000.
The donations made so far will fund WildCRU for at least 18 months.
Its founder, Prof David Macdonald, said he was "horrified" after Cecil was shot dead in Zimbabwe on 1 July.
The project will now study the effect of Cecil's death on the surviving lions in his pride, including his cubs, which Prof Macdonald said could now be at risk.
'Immensely grateful'
Police have arrested two people over the killing of Zimbabwe's most famous lion, which is believed to have been killed by an American tourist.
Prof Macdonald said his team would now work with Zimbabwe's National Parks and Wildlife Management Authority to try and "stamp out" poaching.
A spokesman for the University of Oxford said: "WildCRU has been overwhelmed by the level of donations received since the death of Cecil.
"We're immensely grateful to all those who have already given and to all those who continue to support our research in this way."
Mr Kaplan is a New York-based natural resources investor and said he will match any donations made after 15:00 BST.