Traditional Japanese anagama kiln fired up at Wytham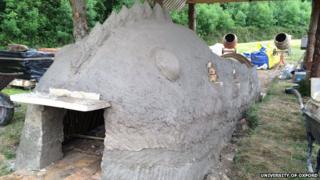 A Japanese potters' kiln built to look like a fire-breathing dragon has been fired up in Oxfordshire.
The 11m-long (36ft) anagama wood-fired kiln has been built at Wytham, with the help of experts from Japan, as part of social anthropology research project led by the University of Oxford.
Flames and smoke billow from its holes, giving it a dragon-like appearance.
Project leader Dr Robin Wilson, said the kilns produced pots with "great variation in colour and texture".
Anagama kilns were first used in Korea in the 6th Century and later adopted by the Japanese. They largely disappeared in the 17th century, apart from in the province of Bizen.
Experts from Bizen have travelled to the UK to help build the Oxfordshire kiln. A second one is due to be fired up in the autumn.
Around 200 clay pots have been stacked on to an interior kiln shelf in the middle of the kiln ahead of the firing.
'A sort of alchemy'
It will take three days to build up the heat, five days of baking at temperatures of 1,150C (2,100F), and an additional three days before the kiln is cool enough to unpack the fired pots.
It is being fuelled with about eight tonnes of hard and soft wood, sustainably sourced from nearby woods.
The research team is appealing for members of the public to volunteer to help stoke the fires for a few hours each.
Dr Wilson said: "A sort of alchemy happens inside the kiln due to the interaction of the flames, the ash, and the minerals in the clay. Every piece comes out looking unique."
It is hoped the kiln will be a focal point for talks and exhibitions and a resource for schools and traditional potters from around the UK.