Oxford Half Marathon runner 'sent wrong way'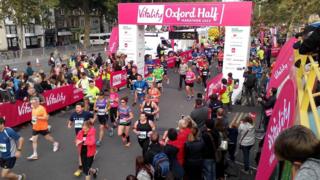 An elite runner in the Oxford Half Marathon was directed into the path of other competitors, forcing him to pull out of the race.
Vincent Boit, a Kenyan runner, was in the lead when he took a wrong turn after the two-mile mark on Sunday.
It is thought the leading car stopped because there were people in the road and Mr Boit followed two motorcycle outriders back towards the start.
Organisers have said they are investigating.
Mr Boit's manager, Peter Mchugh de Clare, said he believed the outriders turned left instead of right from South Parks Road into Parks Road.
He said: "He would have been disqualified for having... gone off course. By then, I'm told, the lead car had started again and so the remainder of the field, who at that stage were some 600m behind Vincent, were able to follow the lead car that went the right way at that junction."
Mr Mchugh de Clare said Mr Boit had been expected to win, having completing the recent Chester Half Marathon in 62 minutes.
Race organiser Jamie Warren said: "Early indication suggests that, due to significant crowds in the first couple of miles, some of the spectators encroached into the road, which looked like it prevented the outriders from taking the right route.
"I've spoken to Vincent... and obviously apologise."
The start of the event was also delayed by 15 minutes because competitors were stuck on trains between Reading and Oxford.
Nearly 7,000 runners took part in the 13.1 mile (21 km) race, which was won by Steve Naylor from Witney in 70 minutes.