Ada Lovelace's letters and work on display at Oxford library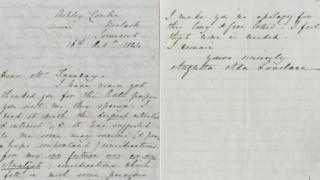 An exhibition showing previously unseen writings by Ada Lovelace, known for her pioneering computer science, opens to the public later.
The Bodleian Libraries at the University of Oxford is putting worksheets and calculations on display.
The display opens to the public on Ada Lovelace Day, which celebrates and promotes women's role in science.
The exhibition contains a manuscript of her workings with Victorian mathematician Charles Babbage.
It is being held at the Weston Library, Oxford.
Ada, Countess of Lovelace, was born in 1815 and was the only legitimate daughter of poet Lord Byron.
'Magical document'
Oxford University is hosting a range of events to coincide with the 200th anniversary of her birth, on 10 December.
Librarian Richard Ovenden said: "This is the first time that these items will be on public display and we encourage people to visit the display to learn more about Ada's important role in the development of computer science. "
Lovelace is known for an article about Charles Babbage's computer, the Analytical Engine, which was never built.
It explained the potential for the machine
Ursula Martin, professor of computer science at the University of Oxford and co-curator of the exhibition, said of the manuscript: "This magical document shows Lovelace and Babbage working at problems together - it's as if you are in the room with them and could pick up your pencil and join in."
In a recent BBC Four documentary, UCL mathematics lecturer Dr Hannah Fry said Ada Lovelace had had a "leap of imagination" when thinking about what the Analytical Engine could do.
The Bodleian holds papers from the Byron and Lovelace families, which were deposited there in the 1970s.
A selection of letters has been loaned to London's Science Museum for its Ada Lovelace exhibition, which opens on the same day.
The Oxford exhibition runs until 20 December.