River Thames hydro-power scheme dropped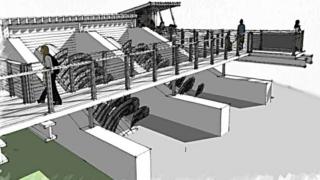 The community group behind a £1m hydro-electric scheme in Abingdon, Oxfordshire has scrapped its plans.
Abingdon Hydro wanted to put two 10-tonne hydrodynamic screws at the town's weir at Abbey Meadow to generate electricity for up to 200 homes.
The Benefit of the Community (Bencom) group, said it was withdrawing because of timescale issues and costs.
The scheme was granted a licence by The Environment Agency in 2012 and given planning permission in 2013.
Richard Riggs, from Abingdon Hydro, said: "The finances and the clock were against us.
"Then over the last few months the incentives, that were designed to encourage groups like ours have been cut drastically."
Mr Riggs said these included a fall in the feed-in tariff and the removal of a tax rebate for community energy groups.
The group had planned to fund the project through shares and a bank loan.