Woman arrested after 'no Muslims' beauty salon Facebook post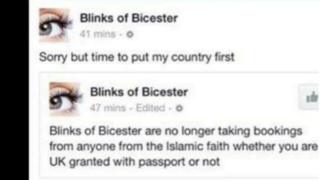 A woman has been arrested after a posting on Facebook said Muslims are not welcome in a beauty salon.
Thames Valley Police detained the 43-year-old after the comment appeared on Blinks of Bicester's page following the Paris terrorist attacks.
It said the business would not be taking any more bookings from people of the "Islamic faith".
This prompted hundreds of messages to be left by people criticising the post.
Updates on this story and more from Oxfordshire
One person, Linda Stubbs, wrote: "You need a rebranding after your vile comments. I think 'Bigots of Bicester' would be very appropriate."
Scott Woods posted: "Can put fake lashes on ignorance but you can't educate it. You've a LOT to learn... racist and ignorant."
On Friday night 129 people were killed when eight Islamist militants attacked bars and restaurants, a concert hall and the Stade de France.
There was no response when BBC News tried to contact Blinks of Bicester.
The Facebook page for Blinks of Bicester where the post appeared has now been deleted.
'Malicious comments'
The woman was arrested on suspicion of displaying of written material which was threatening, abusive or insulting with the intention of stirring up racial hatred, and for producing malicious communications.
Police said it followed reports from members of the public about "malicious comments" being made on Facebook.
Sgt Steve Dixon said: "Thames Valley Police treats all allegations of racial aggravation very seriously and will always take steps to investigate them."
The woman has been released on police bail.