Vote launched to help decide revamped Oxford station design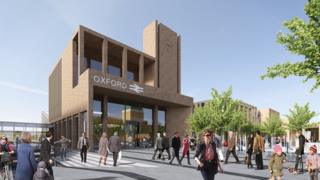 Designs for a revamp of Oxford station have been unveiled and the public will be able to vote for their favourites.
They show ideas for an estimated £125m redevelopment of the train station and regeneration of the surrounding area.
Six architects were asked to submit designs as part of a competition backed by the city and county councils.
City council regeneration director David Edwards said an expert judging panel would also have a say before the final design is unveiled.
Members of the public can vote from Friday by visiting Oxford City Council's website.
Updates on this story and more from Oxfordshire
Mr Edwards said: "A new station is not something that happens every day and we have invited leading architects to come and give us their vision.
"We are going to put those schemes, six of them, in a public exhibition, and we are very keen for the public to come along and give us their views.
"We are asking them to vote for the one which best expresses their views and their hopes for the station going forward."
He said three ideas would be chosen by the expert panel which, along with the "people's choice", would go towards the final design.
The competition runs from Friday until 29 December and the designs will be on show at Oxford's Castle Quarter on Friday and Saturday and at the city's central library from Monday.