Cotswold and South Northamptonshire councils shelve cross-county plan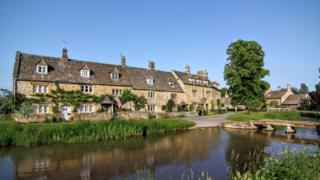 Plans to merge six district councils in three counties into four "cross-county" local authorities have been abandoned.
Cotswold and South Northamptonshire district councils were exploring the possibility of joining with four Oxfordshire authorities to save money.
But both have now announced the plan would take too long and does not currently have enough support.
Oxfordshire County Council, which would have been abolished under the scheme, has labelled it a "cock-up".
The proposals were unveiled earlier this year, but the two councils have now announced they have pulled out after a report by audit firm PricewaterhouseCoopers.
Cotswold district councillor Lynden Stowe, who supported the plans, said they would have been "some of the most innovative joint working arrangements in the country".
He said: "Although our proposals have been seen as innovative, we are some way from achieving the support we need within Gloucestershire."
---
Proposed unitary authorities:
Southern Oxfordshire Unitary Authority, replacing Vale of White Horse and South Oxfordshire District Councils
Oxford City Unitary Authority, replacing Oxford City Council
West Oxfordshire (Cotswold) Unitary Authority, replacing West Oxfordshire District Council and Cotswold District Council
Cherwell (South Northants) Unitary Authority, replacing Cherwell District Council and South Northamptonshire Council
---
David Cameron previously said the plans "had merit".
Leader of Gloucestershire County Council, Mark Hawthorne, said the scheme could have "jeopardised" services for people across the area.
And Cotswold MP Geoffrey Clifton-Smith said: "I never thought this proposal had the potential to deliver effective and value for money local government services for my constituents."
West Oxfordshire, Oxford City, South Oxfordshire and the Vale of White Horse district councils still intend to explore creating four "unitary authorities".
But a county council spokesman has said the plans "don't work" and the whole proposal has been a "cock-up".
County councillor Nick Carter said: "They have hastily carved up the county again with no thought about the best way to deliver good council services."