Faringdon woman hurdles fire started by arsonist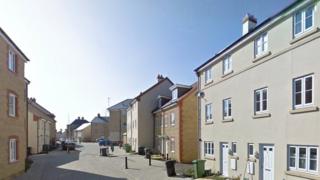 A woman who awoke to find an arsonist had entered her flat and started a fire outside her bedroom door has described how she jumped to safety.
Jessica George, 22, was woken at 05:00 BST on Friday to the sound of someone leaving her flat in Russ Avenue, Faringdon, Oxfordshire.
When she opened her bedroom door she discovered a line of fire that was spreading towards her.
She said: "I went to the back of my room, and just ran and jumped over it."
She added: "I thought 'if I burn my legs, I burn my legs'."
'Am I seeing this?'
Thames Valley Police said in the early hours of the morning somebody gained access to the flat and started a fire outside the bedroom door.
Ms George, who is recovering from surgery to have her tonsils removed, said she could not believe what was happening.
"I'm very lucky that I'm a light sleeper… I wake up if I hear the tiniest of sounds," she said.
"I heard the door, I got up, and I actually managed to get over the fire just before the alarm went off.
"I froze and I looked, and I rubbed my eyes thinking 'am I seeing this?'
"I just ran straight out of my property, I didn't have a chance to put my clothes on, I just panicked and got out."
Ms George said it was possible she had been mistakenly targeted.
Det Con Charlie Ellis, based at Abingdon police station, said: "It is extremely lucky that the victim has woken up and managed to escape in what could have been a much more serious incident.
"I would like to add that we do not believe that there is a danger to the wider public."