Henley 'chemical incident': Ten treated by ambulance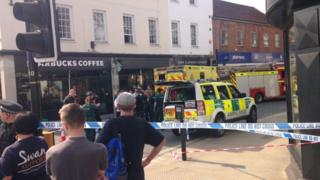 A town centre in Oxfordshire was cordoned off by police and fire crews after a "suspected chemical incident".
Ten people were treated at the scene for coughs and breathing difficulties in Henley-on-Thames following a suspected gas leak at WH Smith.
Emergency services were called to Bell Street at 14:36 BST and cordons are in place in Duke Street, Bell Street and Market Place.
The cause of the incident is not yet known.
Thames Valley Police said customers treated by medics came out of WH Smith "coughing and with streaming eyes".
Hazardous materials operatives remain at the scene but Oxfordshire Fire and Rescue has not elaborated on the cause or what the "chemical incident" was.
Cordons have since been lifted.