Last Merlin helicopter leaves RAF Benson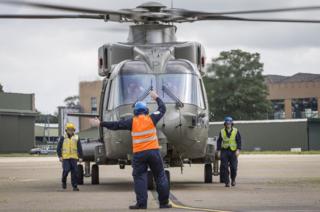 A two-year process to hand 25 helicopters from the RAF to the Royal Navy has been completed, following the departure of the last Merlin from RAF Benson.
The aircraft have been transferred to the 846 Naval Air Squadron in Somerset.
The Oxfordshire station commander, Gp Capt Simon Paterson, said he watched the final helicopter depart "with some sadness".
The helicopters have operated from the airbase since 2001.
They served in Bosnia, Iraq and Afghanistan where they were used to transport troops, supplies and civilians.
They are replacing the navy's Sea King fleet.
The Merlin force was officially transferred in September 2014 in the presence of the Duke of York and Prince Michael of Kent at a ceremonial parade and air display.
Gp Capt Paterson said: "Today was the end of an era as we bid a final farewell to Merlin helicopters after almost 15 years of operating from RAF Benson.
"It is with some sadness that I watched the final aircraft depart and reflected on the success that the RAF has had with the Merlin.
"I also have no doubt that this success will continue with the Royal Navy."