Thame's bid to reinstate medieval town stocks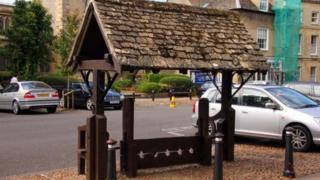 A town has used a 15th Century law in a bid to reinstate a medieval punishment device.
While rotten cabbage-throwing is unlikely, Thame Town Council in Oxfordshire hopes stocks will attract tourists.
Councillor David Bretherton said the idea came about when he was reading about "weird laws" in England.
The Statute of Labours Act of 1405, which has never been abolished, requires every town to have a set.
Without stocks a town or village could technically - although unlikely in modern times - be downgraded to a hamlet and lose its right to hold a market or a fair.
'Showered with flowers'
Mr Bretherton, who is also trustee of Thame Museum, said: "Thame must have had stocks at some point - the old market hall and market cross were taken down in Victorian times, so that's probably when they disappeared."
He said the council, which is holding a public consultation on the plan for the town centre, had received interest from charity groups who wanted to use the device for "wet sponge-throwing" events.
"It wasn't always unpleasant items that were thrown, if the person in the stocks was well-liked they might have been showered with flowers," he said.
"In other cases, they would have had their shoes and socks removed and their feet tickled."
Stocks should not be confused with a pillory - stocks hold the feet and were often used to punish vagabonds and drunkards, whereas a pillory was for the head and hands and for "much more serious crimes", Mr Bretherton added.
The use of the pillory was abolished in England in 1837, but being placed in the stocks is still legal.