Plans for more high-rise buildings in Oxford to meet housing need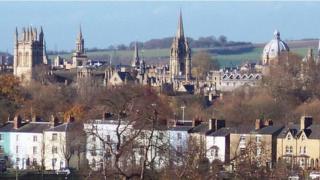 Oxford could see more high-rise buildings built over the next 20 years to cope with the city's demand for housing, a local plan suggests.
Some 32,000 new homes are needed by 2031 to meet predicted housing levels.
Oxford City Council is consulting on a new local plan and has asked residents for their views on housing, transport, education and the environment to guide decisions and investments up to 2036.
But some councillors have warned against it being a "rehash of ideas".
Oxford City Council said the area only had room for about 10,000 of the 32,000 homes needed and may have to consider working with neighbouring councils to make up the shortfall.
Ideas within the plan include:
Erecting taller buildings in some areas
Developing existing green belt and brown field sites and building on existing residential back gardens or in-between buildings
Limiting parking for workplaces and housing developments
Urging people to use more public transport and making the Banbury and Woodstock roads one-way to allow greater space for buses
Councillor Alex Hollingsworth from Oxford City Council said: "Oxford is already a successful city, but it has challenges as a result of this success.
"Our key priority is to get the balance right between our population, the economy and the environment as we develop the vision of what Oxford should be like in 2036."
Green councillor Dick Wolff said he hoped people would take the opportunity to put forward new ideas.
He said: "There is a danger the plan could simply be a rehash of old ideas.
"We want to take stock of where we are to put forward something more visionary."
A series of consultation events will be held around Oxford until the end of July with a final plan due to be sent to the government for approval in 2018.