Abingdon Pride flag rejection row: Council urged to 'do right thing'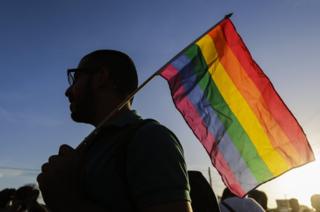 A council which refused to fly the Pride flag on its town hall has been urged to "do the right thing", as a petition against the decision reached more than 1,500 signatures.
Abingdon Town Council came under fire for rejecting a motion to display the rainbow flag in support of the LGBT event in nearby Oxford.
Critics said reversing the decision would be an "important gesture".
Abingdon said it had a "long-standing" policy regarding acceptable flags.
'Show of solidarity'
Councillor Andrew Coles, a West Oxfordshire District Councillor for Witney, said flying the rainbow flag was an "important gesture and show of solidarity for the LGBT community".
"Things have moved forward in the last 20 years, but there is still a stigma," he said.
"Flying the rainbow flag is a really positive way way for local communities to show solidarity.
"I would love all councils to fly the flag at certain points during the year, particularly to support their own community Pride events.
"Abingdon should really do the right thing here."
Oxford Pride chairman Robert Jordan, who lives in Abingdon, Oxfordshire, said the decision made him feel "we're not particularly wanted or loved in the town in which I live".
"It makes me feel sad that in 2016 a sign of symbol, tolerance and equality can't be shown on one day.
"It's an extremely backward step in a town that's meant to be progressive."
Abingdon Town Council defended its rejection of the motion put forward at a meeting last week.
It said it has a long-standing policy on which flags it flies from the top of the town's county hall.
Conservative council leader Mike Badcock said he "appreciated the arguments", but was concerned that if the flag was flown next June it would mean the council would come under pressure for other flags to be flown.
He said that while Oxford Pride was not an Abingdon event, although people from the town my attend.
He added the council would be "pleased to consider allowing a rainbow flag to be flown from a flagpole on the Market Place" if an Abingdon Pride event was organised.