Campaigners demand answers on Townlands Hospital delays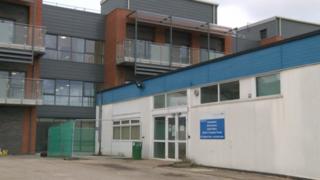 Campaigners are demanding answers over the future of a care unit at Henley's new Townlands Hospital after its opening was delayed for a fourth time.
No-one has applied to be clinical lead of the rapid access care unit - which will provide services such as transfusions - at the new £10m hospital which opened in March.
Royal Berkshire NHS trust blamed a shortage of specialised consultants.
Campaigners called for the NHS to be "more open" about its plans.
'Open and transparent'
The rapid access care unit, designed to encourage more patients to be cared for at home, is intended to replace 14 beds which were closed in the old hospital and will run alongside eight beds at the neighbouring Orders of St John care home.
The £10m Townlands Hospital opened in March after a three-month delay caused by building work overrunning.
A third opening date which was announced for the rapid access care unit in August has now been abandoned due to the recruitment failure, meaning it may not open until the end of the year.
Oxford Health NHS Foundation Trust, which runs the services at the hospital, said it was continuing to work with the Royal Berkshire Hospital to meet their commitments to the local community.
A spokesman for the commissioning group said they "remain committed to securing a consultant-led rapid access care unit service".
They said options would be presented to the Townlands Stakeholder Reference Group at its next meeting later this month.
Henley councillor Ian Reissmann, who also chairs the Townlands Hospital Steering Group, said there was "no sign of the unit opening" and is demanding NHS bosses be "more open and transparent" over their plans.
"We're told they are having difficulty in recruiting and I can believe that, as we all know there are problems of recruitment in the NHS," he said.
"If they are to recruit someone, that will take several months, so the service is going to open at best a year late.
"They need to talk to the community so they can explain what's happening and reassure us about concerns about the failure the service and what alternatives they are considering.
"They need to be more open and transparent about their plans."