Healthwatch Oxfordshire criticises lack of awareness over minor injury units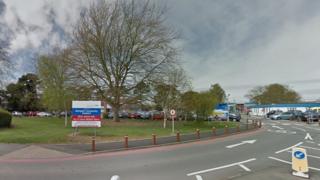 A health watchdog has called for better promotion of minor injuries units (MIUs) in hospitals in order to release pressure on GPs and A&E departments.
Healthwatch Oxfordshire said patients were contacting their GPs instead of going to the specialised departments.
Executive Director Carol Moore said there was "obviously some work still to be done on raising people's awareness".
In response, Oxford Health NHS Trust Foundation Trust said it was looking at ways to make improvements.
The Healthwatch report found that most people were "highly satisfied" with MIU services available in Witney, Abingdon and Henley-on-Thames, and were using them appropriately.
But it said some patients often saw a GP or practice nurse first.
It concluded: "If the aim is to have more people accessing the 'right care, in the right place, the first time', some awareness raising needs to be done about MIU services and the types of services they offer."
Ms Moore said: "Minor injuries units appear to be providing an excellent service in the county, and are playing an important role in easing pressure on other areas of the health service.... however, there is obviously some work still to be done on raising people's awareness of the MIUs and the services they offer.
"We urge that the Oxfordshire Clinical Commissioning Group (CCG), and Oxford Health NHS Foundation Trust, who pay for and run the units, will act on our recommendations."
Stuart Bell, the trust's chief executive, said: "We already use social media to receive and respond to feedback about our minor injuries unit services, and over the next month we will also explore opportunities to introduce a regular article into local newspapers across the county to better promote the service opening times, locations and the service provided."
He said the Oxfordshire CCG had already launched a campaign to raise awareness, which included road shows and the distribution of booklets across the county.