Sunlight destroying natural history museum exhibits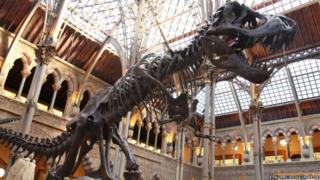 Exhibits at Oxford University's Museum of Natural History are being "destroyed" by sunlight flooding in through the glass roof.
Since a £2million restoration project, high levels of ultraviolet light are causing "rapid and irreversible damage to specimens".
Temperatures inside the building during the summer have soared to 44C (111F).
A planning application to add a reflective film on the roof's glass tiles has been submitted.
'Deleterious effect'
The Victorian roof, built in 1859, was painstakingly restored in 2013 after specimens were damaged by rainwater, while others were fading under harsh light.
The museum was closed for 14 months as more than 8,500 Victorian glass tiles were individually removed and resealed.
The existing UV film which had become discoloured was removed from the tiles and not replaced, with film added only to individual exhibit cases, leaving exhibits not in those cases exposed.
Since then, increased UV light and high temperatures, along with low humidity, have been having a "deleterious effect on the collections, and putting them at high risk of irreversible deterioration".
"In short, they are being destroyed," the museum said.
It added there was a "significant health and safety risk, particularly to young children and elderly people in having temperatures within the court peaking at 44C and frequently above 35C (95F)".
A planning application has been submitted to Oxford City Council to add a protective film on the glass tiles to reduce light and UV levels.
"Since 2014 we have monitored UV and heat levels closely, and after careful consideration of the potential impact on the few exhibits that are not in cases - including whale skeletons and organic taxidermy exhibits - we have applied for listed building consent to install a solar protective film to the roof," a spokesman said.
"This will reduce the incoming UV radiation by approximately 99.9%, adding further protection to the museum's exhibits."
However, the museum is considering installing a new ventilation system as the film will not reduce temperatures sufficiently, it said.
Historic England gave its blessing to the application for the Grade I-listed building, despite the film giving the roof a highly reflective gold colour.
A spokesman said: "We consider that the low level of harm is wholly justified as the proposal represents the least harmful way to address the problem."
A decision on the application is due to be made in September, with work completed by summer 2017.