Blenheim Palace sorry for BBC Countryfile Live delays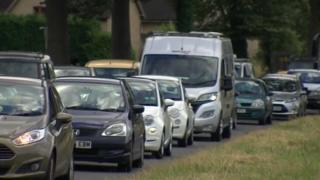 Drivers have complained of a second day of "traffic chaos" and hour-long delays at the BBC's Countryfile Live event.
The event, being held at Oxfordshire's Blenheim Palace, saw wildlife enthusiasts queuing for two hours on Thursday to get to the car park.
But after organisers promised the situation would improve, hundreds continue to complain of hour-long delays getting into the venue.
On Friday, the palace's chief executive apologised for the delays.
'Traffic planning fail'
Blenheim Palace chief executive John Hoy said: "We know where we can improve, we have made some signage and some routing and some lane changes for this morning, and we are confident things will run much smoother on Friday."
But heavy traffic has brought routes to Woodstock, Oxfordshire, to a standstill.
Many visitors took to social media to air their frustrations at the delays on Thursday.
Lisa Coombes asked on Twitter if anybody was actually in Countryfile Live, "it seems everybody is queuing outside #unimpressed", and Dominic Cavendish branded it a "traffic planning fail" with gridlock from Oxford to Woodstock.
Paul Drake tweeted "is this a joke! Will we ever get into this event." Heather Clews posted "traffic nightmare, We are going to Poole so passed miles of cars!!"
A spokesperson for the event said there had been other unrelated incidents on the A34 and added: "Traffic is now flowing around the event.
"We've worked hard overnight to reorganise the car park signage to make it clearer and simpler for people to park and get into the event when they are on site.
"We have also ensured that the local bus operator is making sure the Bladon roundabout bus stop is being used by their drivers, which is the closest to the event entrance."
An emergency meeting was held on Thursday to discuss how the situation could be improved for the remainder of the four-day event.