£1m fund for axed Oxfordshire children's services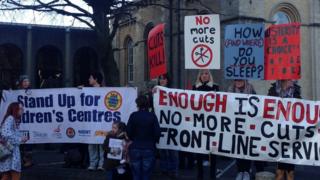 Community groups are being invited to bid for a share of £1m to save services previously run by children's centres being closed across Oxfordshire.
The county's 44 centres will be replaced with a network of 18 when the council withdraws funding for some non-statutory services to help save £6m.
County council documents say the fund will provide grants for "sustainable" schemes for open access services.
Campaigners say the fund is welcome but too small.
Fund 'unlikely' to save centres
Save Oxfordshire's Children's Centres spokeswomen Jill Huish said: "You're not going to actually have lots of centres left open, unfortunately, unless other parish councils, town councils and district councils were to step in.
"A million pounds sounds like a lot of money but it is not going to lead to loads of universal services being left for the children of Oxfordshire."
Cabinet Member for Children and Families, Melinda Tilley, said: "I'm very confident that groups will come forward and a lot of the services that were valued which were not statutory will continue."
Application rounds will be held in October 2016 and January 2017, provided Oxfordshire County Council approves the grant guidance and grant application at a meeting on 20 September.