Campaigner for blind 'mortified' at road junction award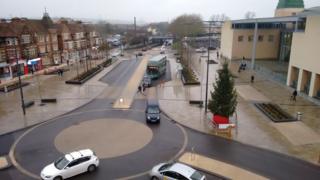 A disability rights campaigner says she is "absolutely mortified" a controversial road junction has been shortlisted for a national award.
Frideswide Square in Oxford opened in December last year based on "shared space", which removes segregation of pedestrians and vehicles.
The £6.7m redevelopment faced criticism after vehicles damaged kerbs, forcing repair work to be carried out.
A council spokesman said the nomination was "welcome recognition".
'Really struggling'
Blind people had previously voiced their concerns about the shared space design.
Joel Young, from Oxford, said removing pedestrian-controlled crossing points had "taken away my ability to cross independently".
"It makes it very difficult for me to know when when it's safe to cross," he said.
In addition, repairs had to be carried out within months of the junction opening after lorries and buses damaged paving slabs.
Oxford Bus Company said the turn from Hythe Bridge Street was "impossible" for coaches without striking the kerb.
Sarah Gayton, a filmmaker and campaigner for the blind, said blind people "are really struggling to use the square".
"I am absolutely mortified. How has a scheme with such a problem for the blind got a shortlist for a national award?" she said.
The annual Transport Times awards will see Transport Secretary Chris Grayling give the keynote speech at the award ceremony on 13 October.
The shortlisted projects are "improving the experience for their transport users", according to organisers.
The news provoked ridicule on social media, with district councillor Debby Hallett saying she "thought this must be a joke".
David Nimmo-Smith, from Oxfordshire County Council, said: "Staff and county councillors had long wanted to see major change at Frideswide Square, and they were joined in that desire by local people and our local media.
"The nomination for an award is welcome recognition for what has been achieved."